«Island weddings, a touch of dream» by Paraskevi Antonopoulou
How many of us do know Telendos? Telendos is a small island, a tiny rock close to Kalymnos, an ...
Helena's art through Grecian Chic
Classic springs from the sources of traditions. She travels all over the islands and the mountains. ...
Creating (Cartoulespress) in the "global village" through the Greek culture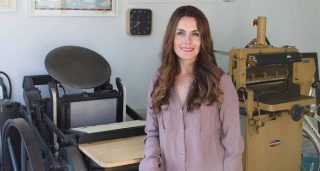 "The new electronic interrelationship recreates the world by giving the icon of a global village" ...
"Inspired Life in Greece" by Dina Argyropoulou
Dina Argyropoulou is one of those special persons who don't compromise their lives. She is one of ...
Londoners experience an awesome tasty trip by the …"The Athenian"
Everything begins from the word "inspiration". On that word we add "meraki" (Greek word which means ...
«Οne quarter Greek» by Nicoletta Barbata
Cinema: a magical world. We believe that it is a world which could be copied by every one of us. ...
The Life Goddess (Amaltheia) by the Greek culture gastronomy
The Greek food has been always something like ritual. The experience of feeling and tasting begins ...
A Greek family takes a different direction in life (takes the reverse way of many others in nowadays)
Spyros Soulis and Yanna Papasava are citizens of the globe. They belong to a special category of ...
Isle of olive in between Greece and London
Polina Fillipou is a psychologist, and Gregory Vaitsas is a physicist. They are both coming from ...
The visual representation of Sufferings (in Easter) at Marpessa of Paros
Greek Easter mystic, unique, full of religious traditions and events. Kids and adults use to wear ...