Creating (Cartoulespress) in the "global village" through the Greek culture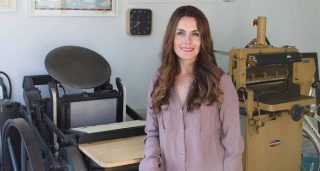 "The new electronic interrelationship recreates the world by giving the icon of a global village" Marshall McLuhan the Canadian communications expert had said. In the "global village" we are able to ...
"Inspired Life in Greece" by Dina Argyropoulou
Dina Argyropoulou is one of those special persons who don't compromise their lives. She is one of those people who have simply being tired of living their lives by the conformist rules of their ...
Londoners experience an awesome tasty trip by the …"The Athenian"
Everything begins from the word "inspiration". On that word we add "meraki" (Greek word which means a creative view full of joy and love) and "work". And accordingly to our grade of try, we touch the ...
«Οne quarter Greek» by Nicoletta Barbata
Cinema: a magical world. We believe that it is a world which could be copied by every one of us. Although, in real life, happens the opposite; Cinema copies life. Let's travel back to the past of ...
The Life Goddess (Amaltheia) by the Greek culture gastronomy
The Greek food has been always something like ritual. The experience of feeling and tasting begins with products of mother earth and finishes with a great feast around the table where family and ...
A Greek family takes a different direction in life (takes the reverse way of many others in nowadays)
Spyros Soulis and Yanna Papasava are citizens of the globe. They belong to a special category of Greeks who left the choice of immigration, and came back in Greece; they left Australia to come in ...
Isle of olive in between Greece and London
Polina Fillipou is a psychologist, and Gregory Vaitsas is a physicist. They are both coming from the capital of Greece, but they have been in London since the beginnings of their studies, 20 years ...
A Greek-Australian nurse that goes where help is needed
From the earthquakes of Nepal, to Lesbos and then to Idomeni.  And from there, to Iraq. And from there, wherever, help is needed. This is the life of the Greek-Australian nurse, Helen Zachos. I met ...
HumanStories joins the international campaign to spread the word #PHILOTIMO
Human stories joins the international campaign to spread the word #PHILOTIMO in collaboration with the Philotimo Foundation (www.philotimo.org) and dedicates a series of interpretations and stories ...
After Fifteen Space Missions, He Dreams of ''Introducing" the Universe to Children
The grandeur of a human being is shown not only through their professional accomplishments, but also through their everyday behavior towards their fellow human beings. Thanasis Economou  is a unique ...