The 63 dead people are the new macabre record of the Evros region
On New Year's Eve, an email with the title "Urgent", arrived in the inbox of Humanstories.gr. It was sent, by Hamza, from Morocco.  "It is urgent. I am sending you this message because we are ...
Breathless in Pazarkule
The pain is acute and lasts. The lungs appear unable to fill with enough air. You are drowning and you think that you will die. The sounds and images around you seems to be moving slowly. You are ...
The Ghost Mountains
It was December 9, 2019, when I phoned Pavlos Pavlidis, the forensic doctor at Alexandroupolis University Hospital, to ask him about two refugees found in the Soufli area, dead from the cold. ...
Two worlds confronted in Moria. Jungle VS – local community
Rashid is sitting with his friends at the edge of the slope, on some pallets and wood. He is over 60 years old and as he says, that he was an officer in the Afghan army. He has lost his left eye ...
The journey of a blue balloon
Ηis anxiety was growing from minute to minute. It was not just the fact that he failed in his mission. There were also dangers around him that could end his life at any time. The beautiful blue ...
Guardian, on the river of ghosts
The night falls on the Evros Delta. Everything is quiet. Even the dozens of migratory bird species that find shelter there, roar quietly in the reeds and dense vegetation. Only the water flow and the ...
The children of Moria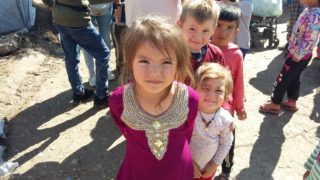 In the neighborhoods of Moria, on the side between the mud and the garbage's, children play casually, running among the narrow alleys created by tents and makeshift accommodations. Perhaps this is a ...
The price of migration
"I thought that my life was about to change if I was leaving Afghanistan. Eventually it changed, but that change had nothing to do with how I was imagining it would be" says Ekramudin Khurami, ...
Syrian coffee
"In a pound of coffee, I want 40 to 50 grams Cardamom and 15 grams Mastic." This is the pot of Syrian coffee according to the preferences of Abuňour. Every week, he was taking a taxi from his home, ...
Once upon a time in Idomeni.  Not so far…
She wake up in the morning, washed, dressed, polished her shoes and settle again on the back side of her mind, all those difficult moments that she  lived up to reach Greece. She'll refresh her ...