Mursal Amiri. The mirror of the women of Afghanistan
"Nothing will be left without searching, especially if the issues and subjects are about women in ...
"On The Rocks, Telendos" or the "princess" who peeps at Kalymnos?
"Oh yes! Paradise has never been nostalgia. That is the truth. Paradise has neither been a reward. ...
The school of Telendos and its great history!
The teacher of the small school on the edge of the Aegean, in the beautiful island of Telendos, ...
«Island weddings, a touch of dream» by Paraskevi Antonopoulou
How many of us do know Telendos? Telendos is a small island, a tiny rock close to Kalymnos, an ...
Helena's art through Grecian Chic
Classic springs from the sources of traditions. She travels all over the islands and the mountains. ...
Creating (Cartoulespress) in the "global village" through the Greek culture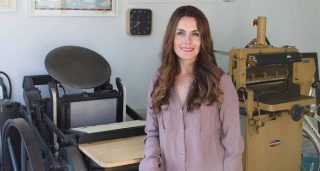 "The new electronic interrelationship recreates the world by giving the icon of a global village" ...
"Inspired Life in Greece" by Dina Argyropoulou
Dina Argyropoulou is one of those special persons who don't compromise their lives. She is one of ...
Londoners experience an awesome tasty trip by the …"The Athenian"
Everything begins from the word "inspiration". On that word we add "meraki" (Greek word which means ...
«Οne quarter Greek» by Nicoletta Barbata
Cinema: a magical world. We believe that it is a world which could be copied by every one of us. ...
The Life Goddess (Amaltheia) by the Greek culture gastronomy
The Greek food has been always something like ritual. The experience of feeling and tasting begins ...