"I became a wine archaeologist in Kazaviti of Thassos"
The sun is slowly setting on the horizon, on the island of Thasos, and Alex and Audrey, sitting on the balcony of the tavern "Giannis" in Kazaviti, gaze at the sunset and discuss what can accompany ...
Don Quixote and Staramaki
On August 28, 1963, in Washington, DC, Martin Luther King, in front of 250,000 peace and human rights protesters, chanted the legendary "I have a dream."  The Societies and history evolving from ...
Londoners experience an awesome tasty trip by the …"The Athenian"
Everything begins from the word "inspiration". On that word we add "meraki" (Greek word which means a creative view full of joy and love) and "work". And accordingly to our grade of try, we touch the ...
The Life Goddess (Amaltheia) by the Greek culture gastronomy
The Greek food has been always something like ritual. The experience of feeling and tasting begins with products of mother earth and finishes with a great feast around the table where family and ...
Isle of olive in between Greece and London
Polina Fillipou is a psychologist, and Gregory Vaitsas is a physicist. They are both coming from the capital of Greece, but they have been in London since the beginnings of their studies, 20 years ...
Drops of "CHRISOMELO" trickling out of his lips as he talks about the Greek land!
Paulo Coelho has written at his novel "The Alchemist": "Somebody asked him: "How could I predict the future?", and Coelho replied: "Through the signs of the present. The secret is in the present… If ...
It's all Greek to Me… Original Qualitative Cuisine in central London!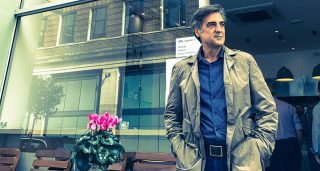 Argiris Rapsomanikis comes from the beautiful island of Corfu but he lives in London since 1993. For me and two other friends there was a social need for qualitative food which had became the guide ...
The «Greek Sun» Rises in Japan
It is because of the sun that Greece has the gift of food. The sun shines on Greece, the land of light. It is a source of energy and inspiration and energy. Aris Karambas cannot imagine a world ...
Greek women who revolutionized the American baby food industry
Zoe Marouda-Tziola is a wonderful person. She lives in distant Anchorage,Alaska, which is the largest city In Alaska. She studied medicine, but her love of cooking, raw materials, and people won her ...
Oil Is Gold in Greece
Contact with nature and the land gives people strength and energy. The wealth of the land is a blessing and its seeds are its gifts. Helen Zotou was never interested in farm life. Her father was an ...