"I became a wine archaeologist in Kazaviti of Thassos"
The sun is slowly setting on the horizon, on the island of Thasos, and Alex and Audrey, sitting on the balcony of the tavern "Giannis" in Kazaviti, gaze at the sunset and discuss what can accompany ...
The heroine "Woman of Olympus"
My admiration for the women of Olympus does not allow me to discriminate. Olympus is a special place. An autonomous place and as the locals proudly say, the only product they needed to import ...
Don Quixote and Staramaki
On August 28, 1963, in Washington, DC, Martin Luther King, in front of 250,000 peace and human rights protesters, chanted the legendary "I have a dream."  The Societies and history evolving from ...
The dancing pencil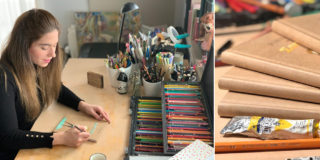 Every product of an artist, must be the expression of an adventure of his soul ".  Somerset Maugham, a British writer, once said.  Elina Papathanassiou, has been painting since she can remember. Her ...
Searching for the ID of the dead in the river of ghosts
When you enter the enclosure of Alexandroupolis University Hospital, between the first and the second building, there is a long dark tunnel, with the light of the sun, glaring as it appears on its ...
Guardian, on the river of ghosts
The night falls on the Evros Delta. Everything is quiet. Even the dozens of migratory bird species that find shelter there, roar quietly in the reeds and dense vegetation. Only the water flow and the ...
The Other Languages" and Elisabeth H. Grigoriadou
Elisabeth H. Grigoriadou comes from the prefecture of Kozani. In fact the inhabitants of the village where she is from are going to be rehoused after years of petitioning on their part. The reason? ...
Mursal Amiri. The mirror of the women of Afghanistan
"Nothing will be left without searching, especially if the issues and subjects are about women in Afghanistan" promises Mursal Amiri. An Afghan journalist that is working as a reporter on MehrTV. A ...
Maryam Khamosh. The silent voice of Afghan women
According to the Afghan Journalist Center (AFJC). Since 2001, when the Taliban regime collapsed, they have lost their lives in the country, 102 journalists. Of these killings, 95% have been left ...