The first female taxi driver in Afghanistan
"It's hard to believe that I'm a driver even to men, but it's a fact," says Sarah Bahai. The first female taxi driver in Afghanistan. "Although there are problems and difficulties in my country, ...
«Salam Asef»
It was in autumn 2016 when I met Asef. Asef Faizi is his complete name. He was sleeping rough with his brother's family, opposite Thessaloniki's railway station. In a park, along with dozens of other ...
With «TRELA» from Paris to Tinos
She discovered Greece at a very young age, through Melina Merkouri, Zil Dasen, Theodoros Aggelopoulos and Kostas Gavras. She is a Digital strategy consultant & information architect that has ...
"On The Rocks, Telendos" or the "princess" who peeps at Kalymnos?
"Oh yes! Paradise has never been nostalgia. That is the truth. Paradise has neither been a reward. Paradise has been our right…", according to the Greek famous poet Odysseus Elytis. Paradise is our ...
The school of Telendos and its great history!
The teacher of the small school on the edge of the Aegean, in the beautiful island of Telendos, arrives daily in his yard from Kalymnos. But when the weather is not good, the teacher cannot approach ...
«Island weddings, a touch of dream» by Paraskevi Antonopoulou
How many of us do know Telendos? Telendos is a small island, a tiny rock close to Kalymnos, an ornament on the Aegean sea. The starting point of my adventure has been this tiny rock, and in a short ...
The modern Oliver Twists who live next to us
IT was a few days before Christmas in 2016 when I met Mohib, a minor from Afghanistan in the park across from Thessaloniki's railway station. A happy child, full of life. When I asked him where he ...
Helena's art through Grecian Chic
Classic springs from the sources of traditions. She travels all over the islands and the mountains. She loves the orthodox churches out of the cities, at the countryside. She loves the family and the ...
Creating (Cartoulespress) in the "global village" through the Greek culture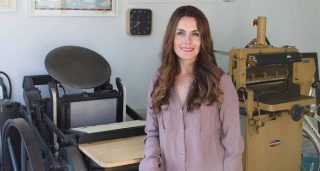 "The new electronic interrelationship recreates the world by giving the icon of a global village" Marshall McLuhan the Canadian communications expert had said. In the "global village" we are able to ...