The journey of a blue balloon
Ηis anxiety was growing from minute to minute. It was not just the fact that he failed in his mission. There were also dangers around him that could end his life at any time. The beautiful blue ...
The Museum of Theophilos in Anakasia, Theophilos figure and the celebration of diversity
"Once upon a time there was a poor fustaneforos who was possessed from the "mania" of painting. They called him Theophilos. His brushes were carried on his belt. On the same place, where his ancest...
The "Theasis" of Schinoussa
Schinoussa, belongs to the small Cyclades islands complex. It has been inhabited since ancient times. And according to tradition, its name came from the bush of Shino, which flourishes all over the ...
"Welcome to our home," at the Echinousa residences
Kimolos. The island of chalk, which the ancients Greeks were using as a soap for cleaning clothes and shaving their beard. Also known as Echinousa. Sea urchins. The island of Kimolos was been visited ...
Searching for the ID of the dead in the river of ghosts
When you enter the enclosure of Alexandroupolis University Hospital, between the first and the second building, there is a long dark tunnel, with the light of the sun, glaring as it appears on its ...
Guardian, on the river of ghosts
The night falls on the Evros Delta. Everything is quiet. Even the dozens of migratory bird species that find shelter there, roar quietly in the reeds and dense vegetation. Only the water flow and the ...
The children of Moria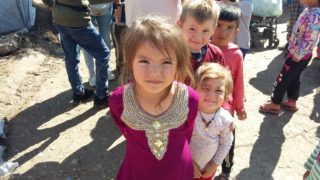 In the neighborhoods of Moria, on the side between the mud and the garbage's, children play casually, running among the narrow alleys created by tents and makeshift accommodations. Perhaps this is a ...
The price of migration
"I thought that my life was about to change if I was leaving Afghanistan. Eventually it changed, but that change had nothing to do with how I was imagining it would be" says Ekramudin Khurami, ...
The Other Languages" and Elisabeth H. Grigoriadou
Elisabeth H. Grigoriadou comes from the prefecture of Kozani. In fact the inhabitants of the village where she is from are going to be rehoused after years of petitioning on their part. The reason? ...
Syrian coffee
"In a pound of coffee, I want 40 to 50 grams Cardamom and 15 grams Mastic." This is the pot of Syrian coffee according to the preferences of Abuňour. Every week, he was taking a taxi from his home, ...