The 63 dead people are the new macabre record of the Evros region
On New Year's Eve, an email with the title "Urgent", arrived in the inbox of Humanstories.gr. ...
"I became a wine archaeologist in Kazaviti of Thassos"
The sun is slowly setting on the horizon, on the island of Thasos, and Alex and Audrey, sitting on ...
Don Quixote and Staramaki
On August 28, 1963, in Washington, DC, Martin Luther King, in front of 250,000 peace and human ...
The Ghost Mountains
It was December 9, 2019, when I phoned Pavlos Pavlidis, the forensic doctor at Alexandroupolis ...
Two worlds confronted in Moria. Jungle VS – local community
Rashid is sitting with his friends at the edge of the slope, on some pallets and wood. He is ...
The journey of a blue balloon
Ηis anxiety was growing from minute to minute. It was not just the fact that he failed in his ...
Searching for the ID of the dead in the river of ghosts
When you enter the enclosure of Alexandroupolis University Hospital, between the first and the ...
Guardian, on the river of ghosts
The night falls on the Evros Delta. Everything is quiet. Even the dozens of migratory bird species ...
The children of Moria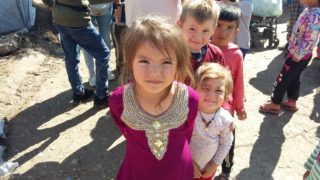 In the neighborhoods of Moria, on the side between the mud and the garbage's, children play ...